Rust Script&nbsp&nbsp&nbsp|&nbsp&nbsp&nbspUndetected Since Release
Rust Script
From

10.00 EUR/month
---
Our Rust Script comes with a lot of functions to help you improve your skills and become better.
Simple to use and easy to configure, comes with an easy to use user-interface you will always be able to easily adjust everything according to your needs.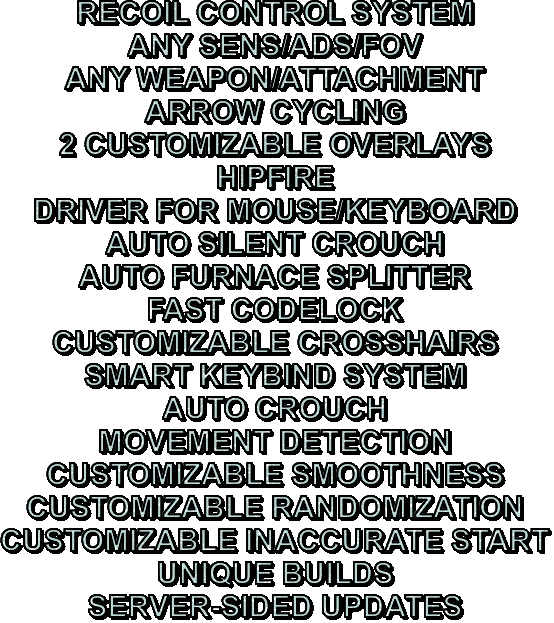 The core feature of our Rust script is the no-recoil, which automatically controls your recoil in-game.
You can spray as much as you like and the bullets will hit the same spot. Our script will help you start your career as a professional player.
Below you can find some no-recoil features our script offers;
Recoil Compensation

Recoil compensation for all weapons
Recoil compensation for all attachments
Recoil compensation for all barrels
Controls hipfire when you have begun shooting and un-ads

Automatic Settings

Automatically grabs in-game sensitivity
Automatically grabs in-game field of view
Automatically grabs in-game aim down sight sensitivity

Movement Detection

Detects your crouch key to ensure recoil compensation in crouching or standing stance
Detects your movement keys to ensure recoil compensation in any movement

Humanisation/Randomisation

X & Y Control Amount - ability to make fake hand cams
X & Y Randomisation - makes your spray more random each spray
X & Y Inaccurate Start - configurable inaccuracy for the first bullets

Advanced

Recognises when you have 0 bullets in your clip and stops the script
Turning the recoil on and off mid-spray is supported
If you begin hip firing in an un-ads state the script will know if you begin to ads and begin to control from that position without issues
Checks for cursor visibility so that the script only works when you are truly ready to use it
 

Our script comes with multiple fully customizable crosshairs. We have Plus, Cross, Gap and Circle crosshair options.
You also have the ability to make the crosshair hide or show when aiming. Crosshair can be set to only show in-game.
Below you can find some crosshair features our script offers;
Multiple Crosshairs

Circle, Plus, Cross & Gap crosshair options
All available crosshairs are customizable

Customizable & Settings

Show on ADS - show crosshair when aiming
Hide on ADS - hide crosshair when aiming
Customizable Size & Thickness
Only Show In-Game - only show crosshair when in-game, also hidden from any in-game menus
 

We take safety as number one priority. Everytime you download our loader, a unique build is generated on our servers.
Everytime you load the software from our loader, a unique build is also generated on our servers.
Our loader injects the script into a windows process, making the script completely leak-proof, as well as fully hidden on your PC.
Below you can find some safety features our script offers;
Protection & Security

Undetected since release
Hidden when alt tabbing
Hidden from task bar and task manager
Runs hidden in the background
Users information hashed & safe on our servers
Compatible with all spoofers
Unique downloads & injections
Unique signature every injection
Injected into windows process (Leak Proof)
Professionally encrypted